Do you want to address your members' behavioral health needs and help them overcome social barriers to care?
Learn how Banner University Health Plans (BUHP) was able to do just that by partnering with Pyx Health to implement its novel program combining a mobile app and support center.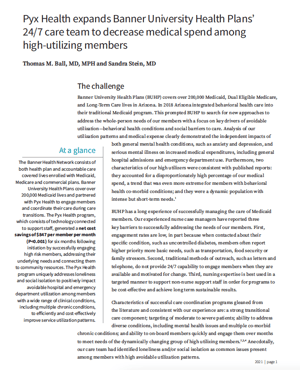 In our white paper, "Addressing Loneliness for Members and Their Plan," you'll learn about:
The challenges Banner University Health Plans faced as they searched for new approaches to address members' needs.
How BUHP adopted and implemented Pyx Health technology.
How use of the program by BUHP members after discharge from emergency room or inpatient care has resulted in a substantial reduction in subsequent inpatient costs and emergency department utilization.
Get ready to improve your members' lives and your bottom line.

Fill out the form to download your copy now!

This independent, statistically significant study analyzed the experiences of 1,170 high-cost members aged 18-103 years over a six-month period and compared that data with a control group that did not access the program.

The white paper was authored by Thomas M. Ball, MD, MPH, and Sandra Stein, MD, BUHP former and current chief medical officers. BUHP covers more than 200,000 Medicaid, Dual Eligible Medicare, and Long-Term Care lives in Arizona.