Did you know that members diagnosed with a serious mental illness are impacted by loneliness significantly more than any other insured group?
So how can you help your serious mental illness (SMI) members overcome this unique challenge? Pyx Health can bridge the gap of loneliness when members identify their greatest needs, which they often do late at night when other resources are unavailable.
Download our "Population Report: SMI Diagnosis" for an analysis of these unique members across the Pyx Health platform.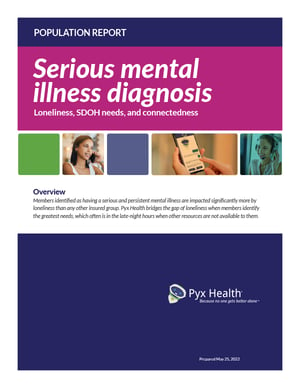 Some of the key highlights of this report include:
SMI and Medicaid population comparisons
Member utilization and engagement insights
Connectivity to health plans and community-based resources
Improvements in loneliness and depression
Fill out the form to download your copy now!