During pregnancy and the first year after childbirth are times when women are at higher risk of psychological distress.
In fact, one in six women experiences depression during pregnancy, which has been associated with poor health outcomes for both mother and child.
Download our Population Report: Medicaid Pregnancy for an analysis of pregnancy within Medicaid health plans across the Pyx Health platform.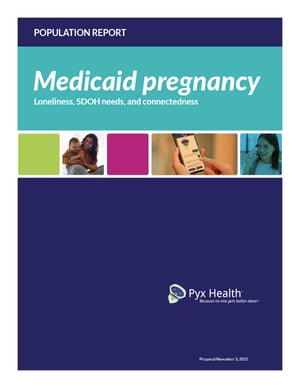 Some highlights include:
Ensuring members feel safe, secure and supported is key to a healthy life, especially for pregnant women going through a life-changing experience.
Providing the tools needed to ensure a healthy pregnancy reduces the risk of high-cost care resulting from untreated and unaddressed needs.
Understanding that SDOH needs are intertwined in this population, but look different than general Medicaid

Fill out the form to download your copy now!