Did you know there is a link between loneliness and low member engagement among the Dual Eligible Special Needs Plans (DSNP) population?
So how can you close care gaps and address DSNP members' behavioral health needs? Pyx Health is addressing loneliness and social isolation to improve the connection between the member and their health plan.

Download our "Population Report: Dual Eligible Special Needs Plans (DSNP)" for an analysis of these unique members across the Pyx Health platform.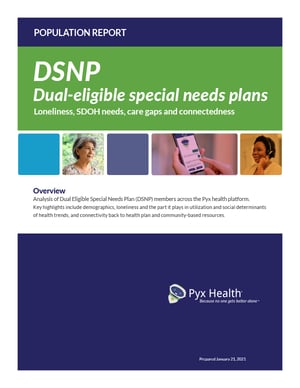 Some of the key highlights of this report include:
Demographics
Loneliness and the role it plays in utilization and social determinants of health (SDOH) trends
Connections back to health plans and community-based resources
Fill out the form to download your copy now!