Member engagement leads to better outcomes.
Medicare members often have multiple competing health needs and are more prone to loneliness. An evidence-based member engagement program can get them involved and improve their long-term health outcomes.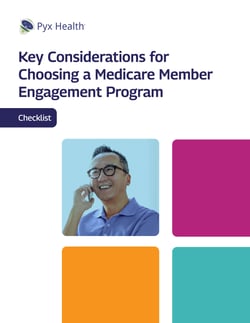 But how do you choose the right program? Our checklist, Key Considerations for Choosing a Medicare Member Engagement Program, identifies key elements to look for in a Medicare engagement program to solve loneliness, including:
Health care impact and SDOH needs.
Cost reduction through targeted results.
Quality and engagement for all members.
Personalization and tailored solutions.
Give your members the most from their health care.
See why quality features in your member engagement program matter. Download your copy now!